Firewood trolley
When you own some forest, firewood is a cheap way to warm a house. However, transporting them indoors can be dreary, and once indoors they'll reward the bearer with litter on the floor. This project is a trolley with big wheels for easy rolling and plastic walls to contain the chaff.
Construction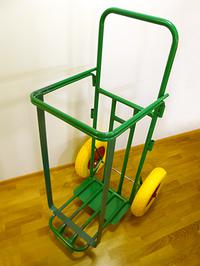 Frame before plastic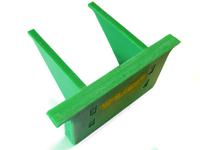 Polycarbonate support for the front of the cart
The basic frame was bought as a ready-made garbage trolley. It had the form of a regular hand truck, with the addition of a square rim at the top where one is supposed to hang the garbage back. I bent a piece of flat steel to fit as a support between the bottom ledge and the top rim. Everything was assembled with blind rivets.
The goal was to make it possible to roll the firewood all the way across the yard from a shed, up the stairs and over door thresholds. The original 15 cm wheels were grossly inadequate for this, so I bought a pair of 40 cm foam-filled wheelbarrow wheels. The yellow color suggested that this was going to be a very cheerful cart.
To keep balance with the now larger tires, the cart needed a higher support in the front also. This was made from polycarbonate, cut with CNC 3020. The front has an inscription, as this was made as a gift. The inscription was carved with the CNC and then filled with yellow wax.
Finally, to contain any dust and debris that might fall off the firewood, I formed a box shape out of 1 mm thick polystyrene sheet. Yellow, of course, to keep up with the color scheme.
Outcome
I gave the trolley as a christmas present to my mother, who stores her firewood in a shed outdoors. The stairs in the porch have 15 cm step height; with the axis at 20 cm above ground, they are not exactly easy to pull up when there is 50 kg of load. It is doable, but not as convenient as I would have liked. A few narrow doors in my mother's house also require care to fit through.
What does work well, though, is transportation on a flat surface. Thanks to the big wheels, the cart rolls effortlessly both indoors and outdoors. Currently she uses it mostly for indoors. The construction seems solid and should last for decades, so it has a long time to find its best use.
– Petteri Aimonen on 31.1.2015